There's something about the voyeur in me that LOVES people's "day in the life" posts. I previously linked up with Julia at My Life in Transition and I'm doing it again for her Fall link up!
Lacey: 33 years old
Dave: 37 years old
Sadie: 4 years old
Thursday, October 14, 2016
2:55am – Sadie is up coughing and wheezing. This doesn't sound like a normal cough. She sounds like a barking seal. Crap on a cracker. Take out the humidifier from the linen closet and set it up in her room. Give her some kids fever reducer because she feels a bit warm and I can't find the cough medicine in my daze. Refill her water bottle and give her a lollipop to suck on for a bit to sooth her throat. She calms down and I take away the lollipop (choking hazard in her sleep nothankyou) and go back to sleep. It's a broken sleep now because I'm tense waiting for her to wake up again or keep coughing.
5:45am – Alarm starts to go off. Hit snooze repeatedly until about 6:05am. It's so not good for me but I'm exhausted from Sadie being up during the night. Grab my phone and check in on various social media channels. Start making notes for this post.
Yes I woke up like this. Be jealous.
6:50am – Sadie still sounds like a barking seal. Dave and I discuss and it's decided he'll stay home with her.
7:10am – Cough medicine for Sadie – set her up on the couch since she's awake. She is a pathetic sick person like me and keeps telling me she "has a bad cough" and that her "cough isn't right."
Another lollipop for her throat.
7:25am – Kiss Sadie goodbye, head out the door. Check out my outfit in the mirror and realize I probably should have worn jeans with this top instead of leggings but oh well. It's too late to change now and frankly, I don't care. Topknot is on point though!
7:30am – Run out to the car and its SUPER foggy out. Weird. Makes our house look extra spooky!
Drive to work and call Sadie's school to let them know she won't be in. Turn on my podcasts and finish listening to a hysterical Unqualified episode with Johnny Galecki from Big Bang Theory.
7:40am – UGH. Get stuck in traffic. It's always by this one exit! I got spoiled this week with there being two days where schools were closed. Traffic is so much better on those days!
7:58am – I am going to be a few minutes late to work but I NEED Dunkin' Donuts. Also, get in a little Pokemon Go action as I walk from my car to Dunkin' and back.

8:14am – Finally at my desk and booting up my computer. My first meeting of the day is at 8:30. It's an informal one with my boss but my computer literally takes 15 mins just to boot up so I text him that I'm here and I'll call him for our meeting.
Eww I need to clean my laptop. (P.S. you can see my "rip the band-aid off" post-it!)
9:00am – I have the longest meeting ever. And I yelled at someone too. Oops
9:45am- Finally get to call Sadie's pediatrician. Get her an appointment at 12. Call Dave to let him know and ask for an update. He says she's feeling ok and acting pretty normal.
9:55am – Bathroom break! I almost always bring my phone and check Instagram, Facebook, etc. Gross? TMI? Too bad.
10:40am – Another bathroom break – damn you iced coffee! Also please note I haven't eaten my bagel yet. Yes, the one I bought for breakfast before 8am.
11:30am – Spend like, 40 minutes on the phone with FedEx to take care of international shipping for my event coming up. Why is this never simple? I want to murder someone.
12:15pm –  Miss a call from Dave. Play phone tag with him for a bit and then finally catch each other. He tells me the doctor thinks Sadie may have croup. Great. He heads to the pharmacy to pick up a steroid treatment and also a new thermometer because ours are all pieces of crap.
12:35pm – Text my co-worker my Chipotle order since she's picking up on the way back from an errand. Mmmm Chipotle.
1:17pm – WHERE IS MY FOOD?!! I'm getting hangry.
1:25pm – Food is here!! Venmo my coworker money to pay her back for Chipotle. Feel like a cool kid cause I'm using Venmo. 😉
2:30pm – It's official. I am the world's slowest eater. Still eating my food an hour later. And I was starving before it got here.
3:00pm – Work work work work work work!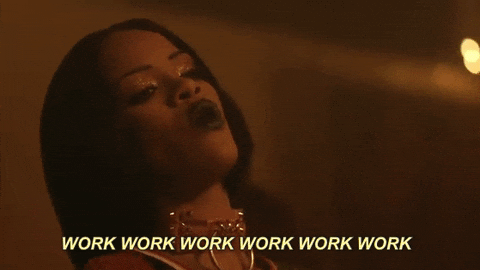 3:35pm – I get a call from Sadie's daycare, which is weird since she isn't there! They wanted to tell me that a classmate of Sadie's has Coxsackie! Hooray! Luckily her sickness isn't any of the symptoms of Coxsackie but now – STERILIZE ALL THE THINGS! (And I'm wondering which kid it is… daycare won't say.)
4:30pm I never finished my lunch – saving it for tomorrow!
4:34pm – Bathroom again. Turn on Pokemon Go to see if I catch anything on the way to pee. Wish nearby Pokestop was closer to my office so I could get stuff without having to leave the building. #firstworldpokemongoproblems. Say hi to coworker who died on the job – LOL!
5:05pm – Wrap things up, shut down my computer and grab a cup of coffee before I head out because I want to get some stuff done at home, and head out the door.
5:50pm – Make it home! Sadie is pretty peppy and playing SnapChat on Dave's phone.
6:30pm – We're eating leftovers for dinner. Per Sadie's request she has instant ramen as her dinner because it is "sick food." I eat it when I'm not sick but whatever! I think she must be going through a growth spurt because she consumes almost an entire thing of ramen by herself. That's what I eat!
6:45pm – I yell at Sadie to stop jumping on the couch and get this beguiling smile in return.
6:55pm – Woo hoo! I finished the second book in the Miss Peregrine's Home for Peculiar Children series – onto the next!
7:20pm – Ooooh look! We found some new-to-us episodes of StoryBots for Sadie on Netflix! Love this show for Sadie. (And I think the songs are pretty catchy!)
Sadie wants another snack before bed. Since she's already had a piece of chocolate and some fruit snacks after her ramen so now she can have some Triscuits.
7:45pm – Time for bed! Send Sadie upstairs to pee, brush teeth, and then get on pajamas. Then it's story time with daddy!
8:10pm – Sadie comes out of bed almost the minute I walk out of the room. Why is she out of bed? She doesn't think before she leaves her room so she fumbles for a bit and then says it was to tell us she loves us. Back in bed. Threatened with dismemberment if she leaves her room. (Kidding. Sort of.)
8:30pm – Sit down on the couch and start cutting out stuff for a project I'm going to do with Sadie. If we're friends on Instagram or Snapchat (laceybean83) you probably have an idea of what it is. Watch TV with Dave for a bit before he switches to a video game.
10:00pm – Still cutting out these !@#$% pieces. Sadie better like this project!
10:45pm – Time for bed! Clean face, contacts out, face mask on (this one is made to wear to sleep – I LOVE IT.) Double check alarm for tomorrow and do a bit of "article" reading on Buzzfeed before shutting down to go to sleep.
And that was my day! Can't wait to read about all the different DITL posts on Julia's blog next week!
Previous DITL posts: