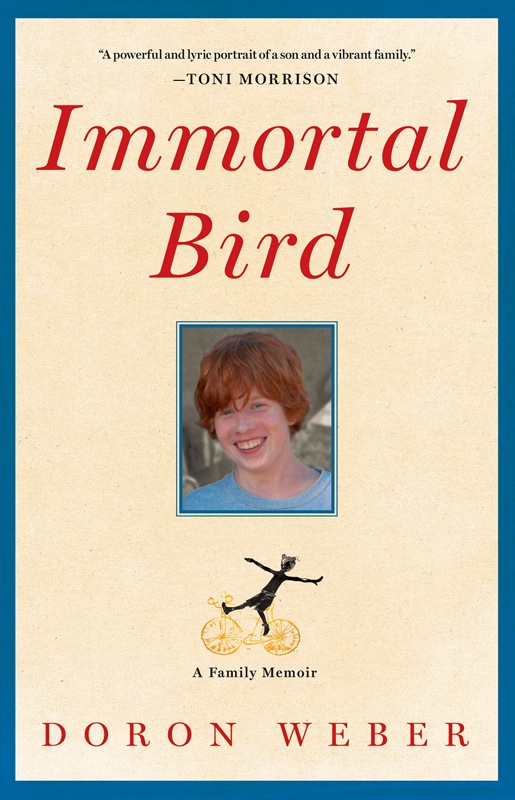 Ever since I became a parent, anything I hear about tragedies affecting children hits me harder than it ever did before. Not to say that these things didn't upset me prior to having Sadie, but it's as if the feelings of helplessness I experience have been multiplied infinite amounts since she was born. Reading Immortal Bird did nothing to ease these feelings – I'll fully admit that the tears were rolling down my face as I reached the end of the book.
Doron Weber's son Damon was born with a congenital heart defect, which was corrected as an infant. Since then, he's led a relatively normal life, despite a slower growth than the teenage friends he surrounds himself with. Actually, let's rephrase. This kid led an extraordinary life regardless of his limitations. He landed a bit acting part on Deadwood, had tons of friends, was a great mentor and brother to his two younger siblings, and was all in all a positive kid, despite all.
Sadly, things start to go downhill for Damon after the weeks of 9/11 –
Damon has developed a serious and poorly understood medical condition that may require a heart transplant for survival. His body is leaking protein, and drastic moves must be made—quickly.
Doron's memoir of his eldest son's slow demise is a hard one to read. The good moments and medical bounce backs make you high, and the lows… they kick you right back down again. Some parents may not be able to read this book, to be honest. I really enjoyed the book though, partly due to Weber's writing style and ease in which he describes his son's medical condition and treatments, but without making the book feel like you need a medical dictionary next to you to understand what he's talking about. The book is also interspersed with blurbs from Damon's blog, which even with glaring grammatical errors, text message type spelling and littering of curse words add another dimension to the story. It's one thing for the parent to tell the story of their child, but a completely different experience hearing it from the child themselves. Or in this case, teenager with a major zest for life, who unfortunately does not have all the time he deserves.
It's also hard to stomach the political drama and inadequacies of the health system that the Weber's dealt with. They were insanely fortunate to have a great network of doctors and experts at their fingertips, but in the end, it really didn't help as much as it could have, or ultimately should have.
All in all a great read – just keep the Kleenex nearby.
Disclaimer: I was given a copy of this book for free in return for my honest review. All opinions are my own.