I haven't had time to meal plan. I haven't had time to post. I've barely had time to shower (gross. TMI?) But I HAVE had time to make this DELICIOUS Tofu Fried Rice and hook you up! I'm hosting ANOTHER giveaway, and you can win a copy of America's Favorite Food cookbook by MyRecipes.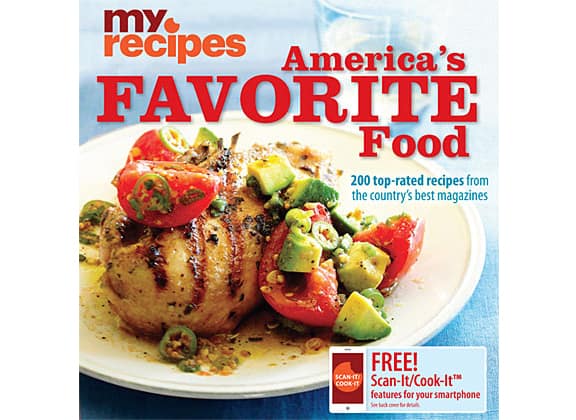 When I was flipping through the cookbook trying to figure out what to make first, I was already impressed by the design and the big text and photos. I hate getting a new cookbook only to find that the text is small, and that there are little to no photos of the food.
Another amazing feature is the cookbook's Scan-It/Cook-It™ feature. Many of the recipes in the book have the feature, which is SO COOL. How do you Scan-It/Cook-It™? Here are the deets direct from the source:
Invisible watermarks in more than 130 images bring the recipes to life, delivering videos, bonus recipes, and other features directly to your smartphone.
Wondering how to use these special features?  It's easy.  Just follow these 3 simple steps:
1.  Download and open the Digimarc Discover app on your smartphone.  It's free and available at the iTunes store for Apple devices and at the Google Play market for Android devices.
2.  Position the phone 4 to 7 inches above any photo or box with a SCAN THIS label, as if you are about to take its picture.  Use the phone's camera flash if necessary.  If you have access to a Wi-Fi connection, downloads will be faster.
3.  Hold the phone steady for a second or two.  The app will click and buzz when it recognizes the image and then begin downloading the described feature directly to your phone.
WHAT TO LOOK FOR
Maroon labels like this one identify photos you can scan for bonus content:
Orange labels like this one identify boxes you can scan for bonus content.
WHAT YOU GET WHEN YOU SCAN
How-to videos that walk you through a recipe, step by step, so you know just what to do
Technique videos that show you a procedure, such as how to poach eggs or cut up a chicken
Collections of similar recipes, such as more chicken chili recipes or kid-friendly breakfasts
Weeknight Meal Planners with a menu and a combined shopping list for five weeknight recipes, including the one you just scanned
Expert answers to common cooking questions and an easy way to submit your own
A customizable online version of the entire recipe collection
SO COOL. The only problem I had is that my phone didn't support the Digimarc Discover app, so I had to use Dave's phone.
So, want to win a copy of
America's Favorite Food cookbook
for your bookshelf? Leave a comment with your favorite recipe of all time. Scrambled eggs with ketchup? OK! (but gross) Coq au Vin? (I had to google the spelling of that). Whatever it is, leave it in a comment by
Friday, December 14
.
**Erin @ The Speckled Palate is the winner!!**
And here's the DELICIOUS recipe for Tofu Fried Rice. This one is totally a keeper!
Ingredients
– 2 cups uncooked instant rice (I used regular rice instead of instant)
– 2 tablespoons vegetable oil, divided
– 1 (14-ounce) package reduced-fat firm tofu, drained and cut into (1/2-inch) cubes
– 2 large eggs, lightly beaten
– 1 cup (1/2-inch-thick) slices green onions
– 1 cup frozen peas and carrots, thawed
– 4 garlic cloves, minced (doubled. Always, always double the garlic)
– 1 teaspoon minced peeled fresh ginger
– 2 tablespoons sake (rice wine)
– 3 tablespoons low-sodium soy sauce
– 1 tablespoon hoisin sauce
– 1/2 teaspoon dark sesame oil
– Thinly sliced green onions (optional)
Preparation
1. Cook rice according to package directions, omitting salt and fat.
2. While rice cooks, heat 1 tablespoon vegetable oil in a large nonstick skillet over medium-high heat. Add tofu; cook 4 minutes or until lightly browned, stirring occasionally. Remove from pan. Add eggs to pan; cook 1 minute or until done, breaking egg into small pieces. Remove from pan. Add 1 tablespoon vegetable oil to pan. Add 1 cup onions, peas and carrots, garlic, and ginger; sauté 2 minutes.
3. While vegetable mixture cooks, combine sake, soy sauce, hoisin sauce, and sesame oil. Add cooked rice to pan; cook 2 minutes, stirring constantly. Add tofu, egg, and soy sauce mixture; cook 30 seconds, stirring constantly. Garnish with sliced green onions, if desired.