When we moved to our house in May, I was super excited about our backyard. We have a ridiculously large yard, with a covered patio, and a huge shady tree and its privacy fenced on all sides. I imagined spending tons of time out there with Sadie, nights spend by our fire pit, tons of barbecuing, gardening, so forth and so on. What I didn't foresee was being attacked every, single time I stepped foot into my backyard – otherwise known as the grassy DEPTHS OF HELL!!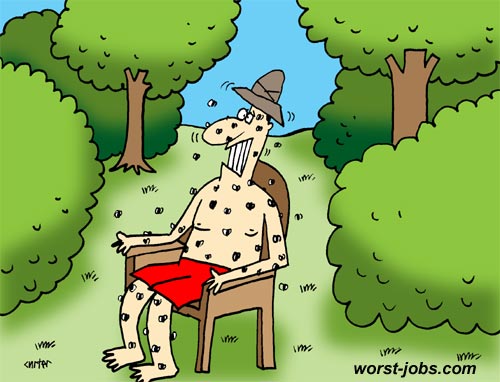 That's right – MOSQUITOES. These fuckers love me like a fat kid loves chocolate cake. Like a nerd loves Star Trek reruns. Like Richard Simmons loves spandex. (You get the picture.) They FLOCK to me. I once went outside to pick some tomatoes and basil from our garden, and came back in with at least 13 bites. It's absolutely ridiculous! So meanwhile, whenever Dave would want to go sit outside, I found myself blatantly refusing for fear I'd get eaten alive again. Let's not even begin to discuss how gross my legs looked with all the bites on them… and because I scratch like crazy, it's pretty awful. (I can't help it!)
It SUCKED. Between the mildly warm winter, and the fact that our neighbors who butt up against the back of our yard have a koi pond (mosquito breeding ground, anyone?) it was awful. Unbearable. And yet they left Dave alone! Or if he got a bite, it was gone the next day. (Jerk.)
And by the way – we had citronella candles. I tried spraying myself. I bought one of those Off fan thingies. NO DICE. A-hole mosquitoes. I am actually excited that it's getting cooler out so the freaking bugs migrate south or die off or whatever they do. And it pains me to say it, but fingers crossed for a harsher winter this year. I WANT THEM ALL TO DIE!
/end mosquito rant
{img}