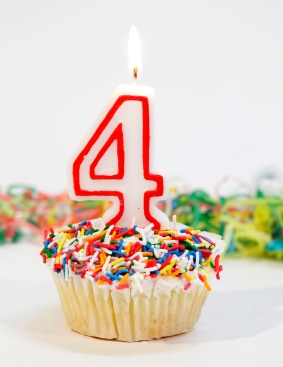 {img}
Yes, this old blog here is four years old. My blogoversary was actually September 13, but since work has been sucking the life force out of me, I plum forgot until today while talking to Jess about my current lack of blogging. Whoops.
I've seriously been out of the loop. I haven't blogged, haven't tweeted, have barely been on FB, and most nights I don't even crack open my computer once I'm home from work.  I don't even have the energy to write a recap post on the last four years.  Blargh.
But yay! Happy blogoversary to me!!  Can't believe I've been doing it this long.  Here's to another year (or four!)
How long have you been blogging for?  Same site, or have you switched?