Dear Firefly Vodka,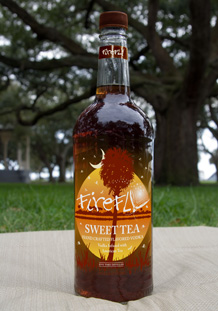 We've had a great relationship together. Ever since I learned of your existence, I've heard your siren song loud and clear each time I pass through the hallowed halls of our local liquor store.  I am never able to leave the store without plucking you from your place of honor on the shelf, and gingerly placing you in my cart.  (Yes, we liquor shop with a cart.)
Upon my eventual return to the homestead, you'd inevitably wind up poured into a rocks glass over 2 cubes of ice.  I never needed to muddy your flavor with any other beverages, except maybe a little water, just to cut it down.  Oh how delicious you were!! (And still are.)  You became my favorite drink to sip leisurely, while Dave sips at his whiskey of choice.
But oh Firefly, I'm sorry to have to tell you this.  I've cheated on you, and I've got it bad.  On a trip to the local liquor store to pick up a bottle of your deliciousness, I spotted a newcomer on the shelf (new to me, at least).  Enter: Seagram's Peach Tea Vodka.  Peach tea? With vodka?  What  I saw offered to me on that shelf (for $9.99!) were two of my favorite things – peach iced tea and vodka.  Nirvana in a bottle!!
Now as you both made it into my cart that day, I have to say that things have become pretty serious between Seagram's and I.  Seagram's has a prominent spot on the bar, while, well, you've kind of been regulated to the back row, waiting until I'm not in the mood for peach tea (aka never), or until the Seagram's runs out.
Firefly I wanted to write this letter to you because of how close we once were.  I felt I owed that much to you.  I hope you understand, and that we can still be friends.
Love,
Lacey
P.S. We'll always have our memories together.
P.P.S. I did find out that you also come in a peach tea variety.  Maybe once I actually see this form of you on the store shelf, we can have the relationship that we once did.  But, alas, the whisperings of Firefly Peach Tea Vodka have been just that… whisperings.  Where are you? Do you really exist, or are you merely an urban legend?
*I was not paid or sponsored by Firefly or Seagram's for this post. My obsession is just so powerful that I wanted to write about it all on my own.