I've got some randomness coming your way today, since nothing is really going on.
– Enter the Crafty Swap!!! I have a bunch of great bloggers signed up, and we'd love to have more!! The deadline to sign up is extended until tomorrow, Sept 12.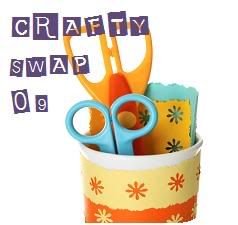 – My 2 year Blogoversary is on Sunday!! Stay tuned for an awesome giveaway, featuring a bunch of lovely Etsy shops!
– Dave's school gave him an iPod Touch because they felt that all the music teachers needed one. It's supposed to be used as an educational tool. Umm, can I become a teacher now?
– I leave for Chicago Tuesday night, and am there for over a week. Sheesh. I am definitely going to set out and explore this time, since last year when I went, I barely got to see the city!
– Revlon contacted me and sent me a bunch of new fake nails that they came out with. I'm supposed to try them out, but I don't know if I could seriously walk around wearing fake nails. We'll see. Maybe I'll get bored this weekend. 🙂
– I'm kind of obsessed with the (500) Days of Summer soundtrack. Especially "Us" by Regina Spektor (who I went to sleepaway camp with!) and "You Make My Dreams" by Hall and Oates hahaha. (Gotta love that J.G.L. dance number!)
– It's feeling like Fall here in NY, so that must mean it's Scarf Swap Time! I did one last year and got a great purple scarf that I LOVE. Katie at Loves of Life is hosting one now, and you still have time to sign up!
– I got a CUTE pair of
Christian Siriano flats from Payless
today! A bunch of designers are doing limited edition lines for them, and these were less than $25!
– I'm also hopping over to Ann Taylor Loft after work to hopefully get this dress and these shoes (in black). They'd be perfect for my events, and to be honest, I haven't really purchased new "work" clothes since my last job, because my every day work environment is so casual.
– I'm getting my hair cut tomorrow, which I desperately need. I'm one of those people that isn't good about my hair, and only get it cut like 2-3 times a year. BAD. My hairdresser will yell at me and then chop off a few more inches than I'd like, to get rid of the dead ends.
– Since the weather is so crappy today I'm wearing my rainboots, but the sole insert thing keeps riding up and making my foot uncomfortable. Gotta remind myself to glue those things in when I get home.
Have a good weekend!!