For awhile now, I've been needing to make something. I used to scrapbook a lot, and make beaded jewelry, and just random odds and ends. And now? Nothing. My fingers have been ITCHING to do SOMETHING, ANYTHING, but I've been at a loss for what exactly to do. I figured I would maybe make a wreath for Halloween (and I bought all the stuff yesterday, tee hee), but I wanted MORE. Last week I saw on Margot's blog un-BLOG-evable that she was taking a few online crafting classes this fall. I clicked around, and found one of the classes offered by Red Velvet Art, a group of super talented and inspirational women who I would LOVE to be as talented as. (Margot is also super talented too, btw. And a fellow New Yorker!)
So after a little trepidation, I signed up!! And OMG I am so nervous!! It's an 8 week class, and it contains a LOT of crafty things I have never done before! Michael's is going to LOVE me, and my wallet is going to HATE me haha. I'm really hoping this class will inspire me to really get back into crafting again, and maybe introduce me to a new craft I didn't know I'd like! Sign up soon – space is limited! And also check out their shop – so many cute things!
Sign up here!
In addition to needing things for this class, I had been going through all of my various crafting materials to see what I had, clear out some useless crap, etc. And while I love buying new things to craft with, I have SO MUCH of it already!! So I propose a Crafty Swap!!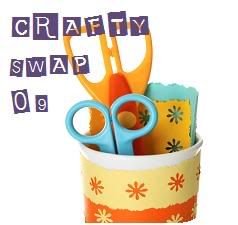 Please steal the badge! Post it on your blog, tell other bloggers, go for it! 🙂
Everyone's got tons of stuff lying around, right? So here are the rules:
1. The point of the swap is to send crafty stuff that you don't use to someone else. So in no way do you need to go out and buy new stuff to send to your partner.
2. While you're sending stuff from your already owned stash, this does not mean items that have clearly been used, like half empty tubes of glitter glue, torn paper, etc.
3. Feel free to send any type of crafting material you have! Beads, ribbons, tools, paper, stickers, embellishments, yarn, fabric, etc.
Sign ups begin NOW! Comment if you want to participate, and then email me your mailing address (so I can send to your partner) here!
Sign ups will end on Thursday, September 10. That weekend, I'll send everyone their partner's information, and let you know when to send your crafty goodness by! UPDATE – sign ups close SEPT 12!!
I hope people will be interested… and that you like the badge I created… it was my first one and I had no idea what I was doing!!
Please sign up!! 🙂